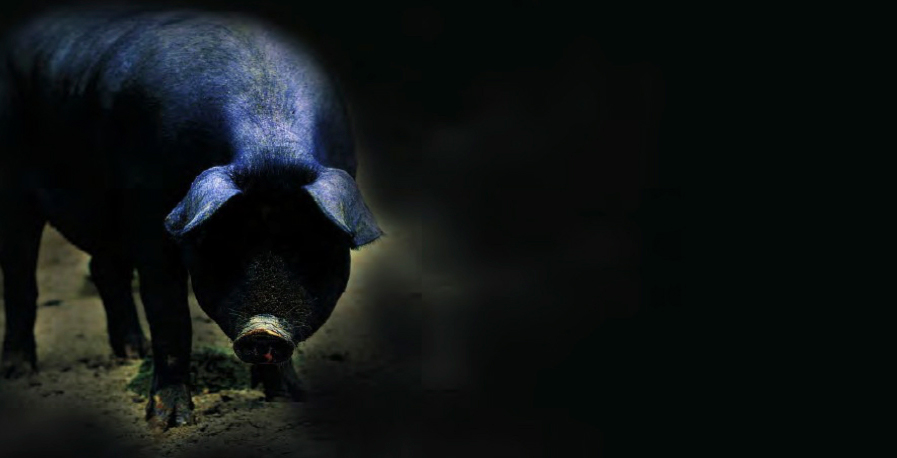 The company Miguel e Miguel, Lda is located in Vila Nova de S. Bento, between the county seat (Serpa) and the Spanish border. Its privileged location allows combining favourable conditions to produce and transform Iberian Pork. Miguel e Miguel selects the raw materials used to prepare the products, including fresh and frozen Iberian Pork cuts, sausages and hams. The company Miguel & Miguel, Lda owns recently expanded and refurbished premises, equipped with state-of-the-art technology to produce and handle products in hygienic conditions, in order to produce safe food of high quality, observing the know-how of generations.
IBERIAN PORK - THE BREED AND ITS DIET
The Iberian Pig is a dark-skinned animal with sparse hair and long and thin snout and legs. This breed has a unique genetic feature that allows it to store fat in its muscular tissue, which is the reason for the distinctive taste of its tender meat. This exceptional breed, privileged by nature, which can only be presently found in the Southwest of the Iberian Peninsula, is fed according to a regime of herding in the fields, in a landscape of holm oak and cork oak. This dietary regime of acorns combined with the ingestion of fresh grass and aromatic herbs adds a smooth aroma to Iberian Pork meat, making it feedstock of exceptional quality, irreplaceable to achieve the best products that we have the pleasure of manufacturing and making known to lovers of high quality meat.
Iberian Pig is reared in very particular conditions with a balanced diet so that its meat acquires unique and distinguished organoleptic features. Iberian Pig undergoes a stage called "mon- tanheira", consisting of a period during which animals are reared in the full "montado", mainly fed with acorns they find in the field. They travel an average 2 to 3 hectares per day, eating 7 to 10 kg of acorn and grass daily and gaining around 1 kg per day. The duration depends a lot on weather factors but normally spans from October to March, coinciding with the period of acorn matu- ration in holm oaks and cork oaks. Rich in oleic acid, acorns are responsible for the unique aromas and tastes characteristic of Iberian Pork meat and products.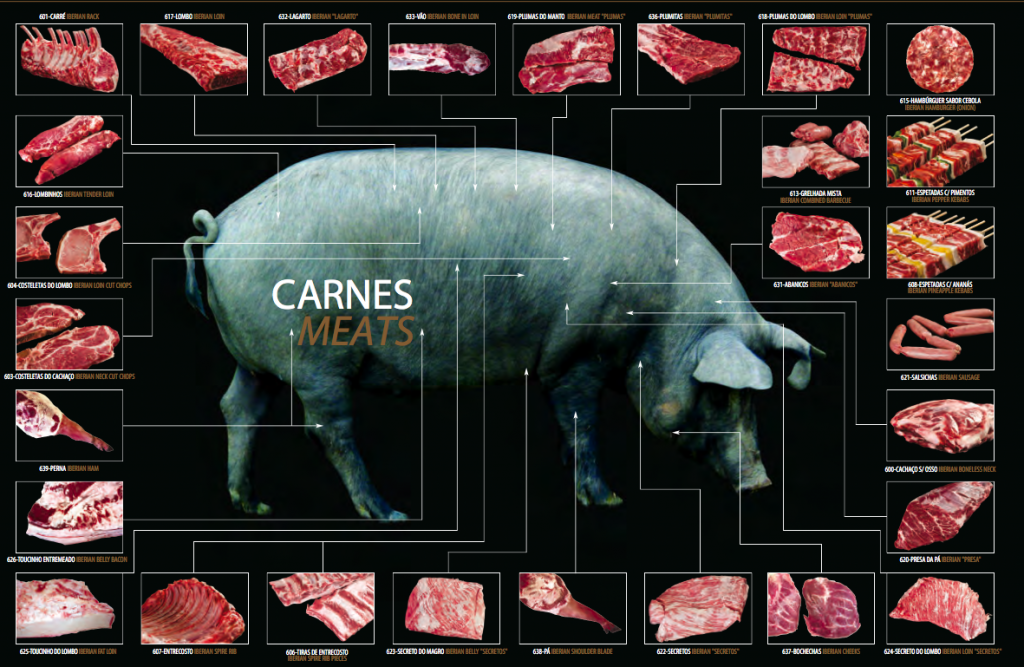 Producing and curing Iberian Pork hams and front-leg hams ("Paletas") is the result of the perfect union between ancestral art and know-how and the incorporation of new technology in a controlled atmosphere that raised the quality of hams and front-leg hams to a higher degree.
The classification of hams is done carefully through biopsies that are performed on live animals by veterinaries and then analysed in accredited labs, that quantified the amount of oleic and linoleic fatty acids present in the meat, in order to confirm the quality of the diet that animal had during the "montanheira" stage. Only after this ham and front-leg ham classification stage is finished, may the process of producing Iberian Pork hams and front-leg hams begin. Hams are cured with a careful artisanal process that guarantees a delicious combination of distinctive taste and aromas.
In order to best enjoy our hams, we recommend that they be cut in very thin slices. Although Iberian Pork ham has intramuscular fat, its composition is very rich in oleic acid, an essential fatty acid (also known as Omega 9), with benefits for human health and a role in the regulation of cholesterol levels, which gives the ham a natural shine, visible after it is cut into delicious slices.